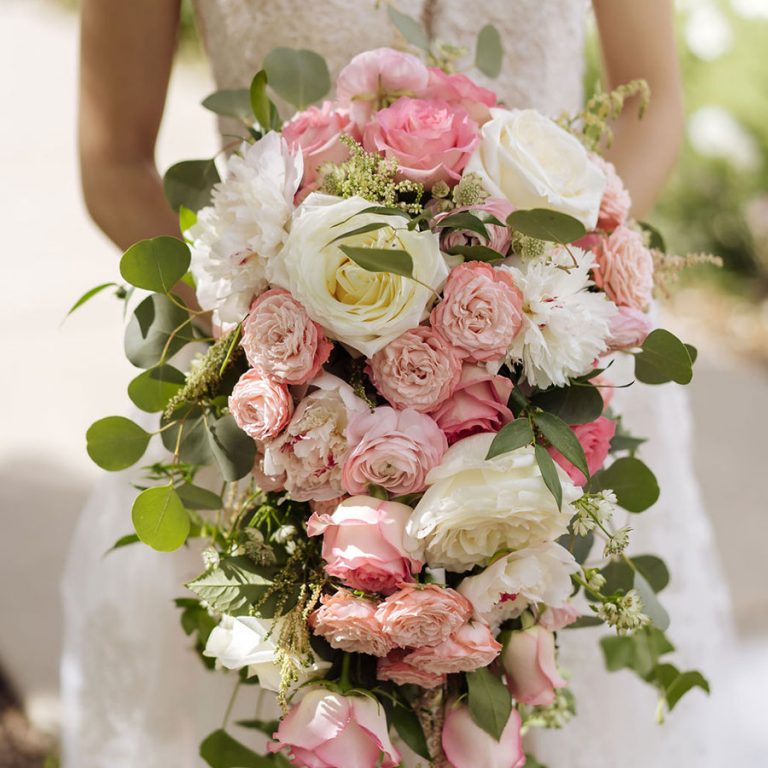 Lily Garland is more than a florist — we carefully craft custom events and experiences to celebrate your special moments in life. With our gorgeous, hand-crafted floral arrangements, we brighten up the world, one bouquet at a time. We're happy to customize orders for events near and far, including weddings, funerals, private parties, corporate events, and any other occasion that needs a splash of color. Our creative team can work with you to craft a custom masterpiece and memories that will last a lifetime.
Lily Garland is based in Coeur d'Alene Idaho. Do you have an event in Spokane, Coeur d'Alene, or Sandpoint that needs a touch of Lily Garland? Reserve your date today. Event season is filling up quickly!
With a legal name of Lily Garland, it's no wonder she became a florist.
Lily has a long history of merging creative and business skill sets, so becoming a floral designer was a perfect fit! Lily graduated from Dickinson College in Pennsylvania with degrees in Economics and Studio Art. After graduating, she attended the Long Beach City College Floral Design program to perfect her skillset. In 2018, she started her business in Southern California through friends, family, and word of mouth doing everyday deliveries. She quickly found her passion for the events business. Lily has a unique ability to help peoples visions come to life and to creating lifelong memories.
Prior to starting Flowers by Lily Garland, Lily has an established history of entrepreneurial endeavors and working in sales management positions for startups. Lily started her career working in marketing for large brands like Disney and Belkin.
Like many of her former clients, Lily is recently married and is happily raising her black lab (Lucy) and Goldendoodle (Huckleberry – named for a popular floral greenery in the pacific northwest). Lily caught the travel bug at an early age and jokes that she was raised on an airplane. In her spare time, you can find Lily traveling throughout the Pacific Northwest and internationally, playing volleyball, attending workout classes or gardening in Coeur d'Alene Idaho.
Flowers by Lily Garland is a must!
I highly recommend Lily for your wedding day flowers! Our flowers were AMAZING! They were so bright, colorful, arranged beautifully, and exceeded my expectations! Everyone couldn't stop talking about how beautiful they looked! Even my husband, who didn't understand how essentials flowers are to a wedding, was genuinely impressed!
I gave Lily some suggestions on what I liked and let her artistic mind shine! She is easy to work with, listened to all my wants, professional, and an affordable wedding florist! You will not be disappointed when choosing Lily to do your flowers for a wedding or even a special event! Highly recommend!
Lily's work is perfection!
My husband and I feel fortunate to have hired Lily for our wedding day. She worked closely with us and our wedding planner to understand our vision and was able to exceed our expectations while staying within budget. We got so many compliments from our guests on how beautiful my bouquet and the floral pieces were. Can't wait to work with her again!
Amazing florist!
Lily did the flowers for my engagement party, bridal shower and wedding and she did an amazing job on all!! She is very easy to work with and accommodating and worked with me on my wants vs budget especially for the wedding. I showed her pictures of the arrangements I liked for my wedding flowers and she created EXACTLY what I had in mind. She listened to my likes and dislikes and was just perfect, and was very responsive to emails and texts. She helped me communicate with the venue for planning and was very thorough, she knew to ask things that I didn't and with all the stress of planning a wedding that helped a lot. I will be using her for all my floral needs in the future and highly recommend!
Wonderful flowers for shower!!
The shower flowers were absolutely gorgeous! I recently hosted a shower in my home. Lily Garland was hired for the event and went above and beyond!! The flowers were truly beautiful and more than I had even hoped. She showed up early. Set everything up herself. She even had brought extra candles, holders, and other details to really create a beautiful ambiance. Highly recommend!! Her prices are VERY reasonable especially for the quality and personal touch.
As Good and Professional as They Come
Lily is as good and professional as they come. Lily provided all of the floral for my backyard wedding. She was so easy to work with and truly made my wedding come to life. She captured my vision and I could not have been more pleased with how everything came out.
Elegant & Beautiful
Lily Garland provided the flowers for my baby shower and I was amazed. Each arrangement was elegant and beautiful. Every single guest was impressed that the flowers were so fresh and smelt great. Would recommend Flowers by Lily to anyone and everyone and will definitely be using her for all future events.
Wedding Planner
I am a wedding planner in North Idaho and I have worked with Lily on multiple events. I love working with her for multiple reasons, she is very responsive, flexible with myself and clients, and most importantly her work is beautiful. She is able to accommodate all of my client's needs. She shows up to events on time. When I know that I am working with Lily, I know that I don't have to worry at all, as a wedding planner it is so nice having reliable vendors! I would recommend her over and over again!
Beautiful
Lily did our flowers for our wedding & they were beautiful! We did an arch piece, bridal bouquet, flower crown for my flower girl, centerpiece for my head table & boutonnieres for the groomsmen. I absolutely loved everything!
Amazed by the Lily Garland Team
Matt and I were amazed by the Lily Garland team. Any expectation we had for florals were blown out of the water. They will take your vision and run with it to make it the most beautiful thing you have ever seen. Thank you for taking such good care of us and listening to every little detail we had!
Out of this World
Lily was absolutely the best person we could have come across to help with all our floral arrangements for our wedding. We are from out of state and really wanted a professional to take the lead on our arrangements and use as much creativity as possible. She absolutely delivered this and more! She took creativity to the next level and provided us with an AMAZING floating flower backdrop that was out of this world. If I have any further events in Northern Idaho she will be my first contact for floral arrangements!
Definitely Recommend
I was very happy with my flowers Lily Garland did for my wedding! Communication was great and she worked with my budget and gave me exactly what I wanted. My bridal bouquet, bridesmaids bouquet, boutonnieres, flower crowns, and corsages all turned out perfect! I would definitely recommend!
Thrilled with the Outcome
Highly recommend Lily! I was absolutely thrilled with the outcome of my arrangements for my wedding. I sent over pictures of what I wanted and she beautifully and very successfully executed it! She is easy to work with and had my arrangements there on time!
True Talent
Lily is a true talent! I've worked with Lily on a styled shoot. The way she can put a bouquet together, table scape and unique and creative touches to her displays are impeccable!
I just loved working with Lily!
I just love working with Lily! After attending her Thanksgiving floral class event, I was hooked! You can tell she knows what she's doing, she's professional, and she really pays attention to client needs! I used her for my booth design at a wedding expo this January, and the arrangements looked exactly as I hoped, stayed beautiful all day, and LASTED for days on my kitchen table afterwards! I've also had the pleasure of photographing Lily, and I love working with her all around!
Stop looking because you won't find anyone better!!
I highly recommend Lily Garland for any flower needs you may have. She is amazing at what she does and will make you the prettiest flower arrangements you've ever seen. She is professional, creative, accountable, kind, easy to talk to and so much more. If your wedding day includes flowers, Lily is your girl. I will recommend her over and over again. Stop looking because you won't find anyone better!!
STUNNING!
Lily was amazing to work with for my wedding and made my dream flowers a reality for our big day! She listened to everything I wanted, was open to changes, and communicates quickly. She has great insight on what flows well together and the arrangements she created were STUNNING!
Absolutely amazing!
We were expecting quality florals and Lily and her team completely went above and beyond our expectations !! Anyone who attended or didn't is in awe at the beauty of the florals and I am blessed to have had the best team in the PNW for our special day!! Thank you all so much !
Lily is amazing!
Lily is amazing Lily was amazing to work with. I am not very knowledgeable about flowers and she really helped us pin point what we wanted. She was super professional! All of her works are amazing and beautiful.
Stop looking because you won't find anyone better!!!
I highly recommend Lily Garland for any flower needs you may have. She is amazing at what she does and will make you the prettiest flower arrangements you've ever seen. She is professional, creative, accountable, kind, easy to talk to and so much more. If your wedding day includes flowers, Lily is your girl. I will recommend her over and over again. Stop looking because you won't find anyone better!!