Filler flowers are used to fill in the spaces in an arrangement or bouquet. They are usually placed last in the arrangement and fill in empty spaces in the arrangement. Often overlooked, filler flowers play an important part in forming the shape of your wedding design and deserve attention.
There are so many options available, besides the airy Baby's Breath, to not only compliment your focal blooms but to also add fullness, interest, texture, flow and creativity to your bridal bouquet and arrangements to get a more individualized look that matches your personality and style. Look at some beauties! Here are some of our favorites.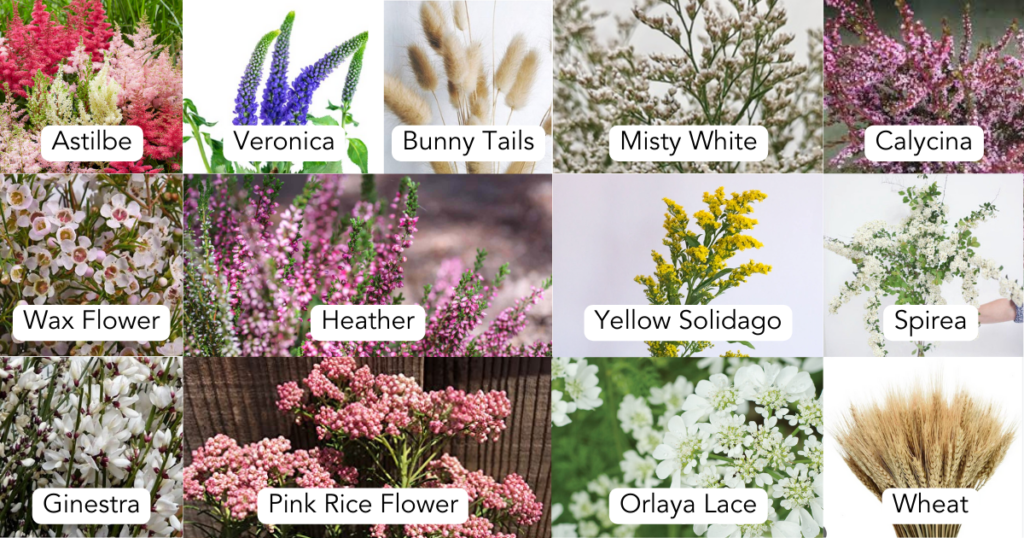 Waxflowers (Chamelaucium): This is our absolute favorite and our go-to for weddings. The small blooms of waxflowers have a long vase life and come in a range of colors including lavender, pink, cream and can be dyed into others like yellow, orange and blue. These lemony-scented flowers make them a versatile choice for bouquets and detailed personal items like flower crowns.
Hypericum Berries: These small, round berries come in shades of red, coral, burgundy, white and green and add a pop of color as well as texture to bouquets. Although popular painted gold during Christmas, this filler flower pairs well with flowers of every season.
Astilbe— Its feather-like appearance adds a delicate touch to arrangements. Various varieties and colors are available at different times of the year, so check the timing before making this your choice. These are a bit pricier than some other choices, but really add a pop to your arrangement.
Bunny Tails – These adorable, fluffy white or tan oval puffs look like a rabbit cottontail. They are often dyed neon or vibrant colors and dried/preserved. Use them to add a bit of whimsy or a country feel to your florals.
Calycina—The calycina's sturdy pink or white flower looks a lot like heather. These tiny, star-shaped blooms on long branchy stems grow wild in rocky, mountain areas of Australia, and can add an adventurous touch to an arrangement.
Ginestra – A lush decorative filler, ginestra features bunches of tall, slender stems with petite flowers, usually white, that cluster together near the base of the stem and spread upward. They are perfect combined with other tall blooms.
Heather — This tall filler flower adds height and volume to bouquets. Tiny spherical blooms stretch the length of its branchy stems and come in pink, white or green. Heather can add richness, texture and volume to an arrangement.
Misty White or Misty Blue – A hearty filler that has thin, branching stems ending in tiny delicate flowers, this flower can add detail to an arrangement. It is also known as Limonium and comes in a shade of blue as well as white.
Orlayla Lace – This delicate filler has clusters of dainty white blooms that mix well with almost any style. It is similar to Queen Anne's lace and can be used to give an arrangement a rustic or country feel.
Spirea – Another long-stem choice, spirea comes in white primarily and features mounds of clusters of tiny flowers. It is a good choice if you are looking to give the arrangement a wild and free feel. The pieces can be quite long and stick out of the arrangements. Only available early in the wedding season in May and June.
Veronica – This stunning filler flower has a long, thin bloom comprised of numerous florets. It comes in many colors and can extend the shape and outline of your arrangement while adding movement.
Rice flower – Before opening, the closed buds of this dense cluster of flowers look like—you guessed it—gains of rice. These are great for rounded bouquets.
Solidago – This sunny yellow filler flower comes in a triangular-shaped cluster made up of small, delicate blooms that provide a strong pop of color. Great for fall arrangements, solidago is often dyed burnt orange.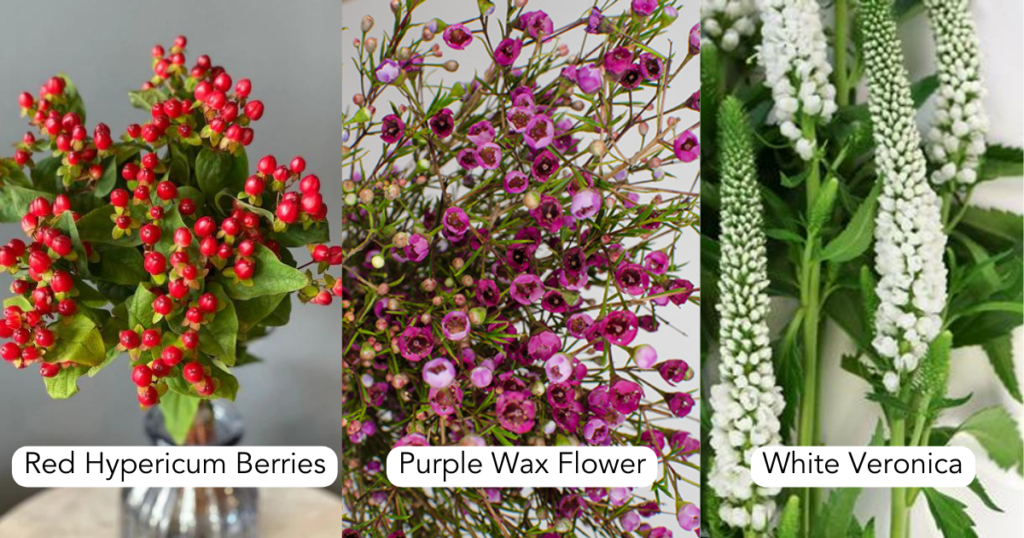 What grabs your attention as you considered the choices? What will best complement your style or wedding theme? Does one flower stir your emotions more than others or touch a fond memory?
A conversation with a floral professional can help you make the best choices for your special day. We are always available to discuss your options.